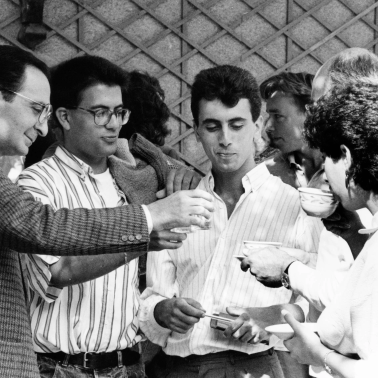 The Lebanese Fighters for Peace is a featured participating group of the 2023 Caux Forum - Healing the Wounds of the Past event that will take place during 17-22 July in Caux, Switzerland. 
This is their story.
In 1968, a 21-year-old law student from Beirut, Lebanon attended a Leadership Training Course at the Caux Conference Centre. Ramez Salame came to Caux in the nascent stages of his inner exploration, yearning to strengthen the connection within himself and with others at a time of growing unrest in his home country.
When civil war broke out in 1975 between Lebanon's Christian and Muslim communities, Ramez joined up with a Christian militia. Over the next 15 years, the once thriving "Paris of the Middle East" was torn apart by the scars of imperialism and unrelenting violence that killed an estimated 150,000 people while displacing another 900,000 from their homes. 
As fighting dragged on in those years, Ramez made a bold decision after a fateful moment of clarity. 
'I perceived that God had a more important battle than the one I was fighting,' Ramez recalled. 'I gave away my gun.'
Ramez began to cross the dividing line in Beirut to launch a series of dialogue meetings with his Muslim friends and influential community members, and subsequently brought these young Lebanese to Caux during the war. 'Initiatives of Change has constantly challenged me to reach out to others – particularly my Muslim compatriots – and to work with them for a renewal that must start first in our own lives, on the basis of our shared need for each other.'
In the decades of aftermath following the civil war, ex-combatants from all sides came together in dialogue to renounce the atrocities they had participated in. They were concerned by reemerging violent clashes in Tripoli, and, in their desire to stop the devastating cycle of violence and war, they formed the Lebanese Fighters for Peace. The group of former enemies set out to help younger Lebanese discover 'what we realized too late – that in a civil war everyone loses.' 
The story of Ramez and the Lebanese Fighters for Peace is one of many powerful narratives memorialized in IofC's newly-released book, 75 Years of Stories: 1946 - 2021, chronicling 75 years of Caux's impact around the world.
---
The 2023 Caux Forum - Healing the Wounds of the Past event will include plenaries, workshops, communities and meetings, all of which will focus on lived experience as a gateway to understanding the impact of historical wounds today.  
The event sessions will draw on the learnings of IofC's award-winning Trustbuilding Program and will foster new connections with practitioners in conflict resolution and peace building, while also helping participants to grow their knowledge of tools and resources which help bridge society's divides. 
Learn more about the Caux Forum's Healing the Wounds of the Past event and register here.